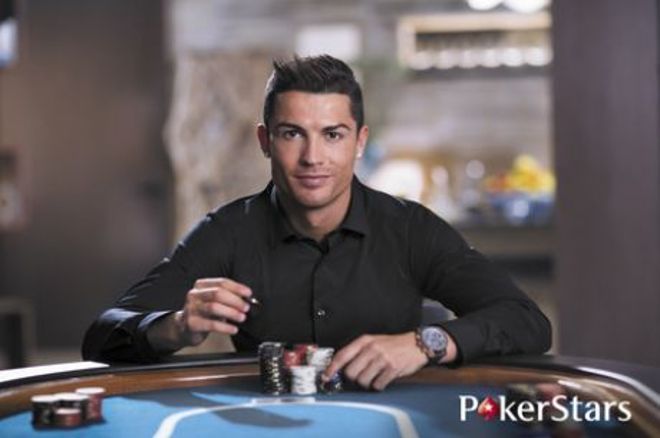 Don't get confused with the Ronaldos! This article is about Cristiano Ronaldo, not this Ronaldo!
Cristiano Ronaldo has won almost everything there is to win in football, or soccer to some of our readers. The 37-year-old superstar has scored more than 800 career goals, and has won the league title in England (three times), Spain (twice) and Italy (twice).
On December 6 at 7:00 p.m. GMT, Ronaldo leads out the Portuguese national team in the 2022 FIFA World Cup Round of 16 fixture against Switzerland. Ronaldo has scored in five different World Cups but has never found the back of the net in a knockout stage fixture. It would take a brave person to bet against him removing that unwanted statistic from his record this evening.
Although best known for his goalscoring prowess and being the fuel in the fire in the debate of who is the greatest ever football player, Ronaldo was once a member of Team PokerStars! Most people think of the "original Ronaldo" when they think about PokerStars, but Cristiano Ronaldo flew the PokerStars flag back in 2015.
Which Professional Soccer Players Have Won the Most Money Playing Poker?
Rumors of Ronaldo putting pen to paper with PokerStars circulated in the weeks leading up to his official unveiling. Ronaldo posted a photograph of himself playing with a PokerStars-branded deck of cards to his millions of social media followers. At the time, PokerStars said the fact Ronaldo was playing with PokerStars-branded cards was merely a coincidence. After all, the online poker giant had only then recently added Neymar Jr to their Team SportStars roster.
On May 27, 2015, a post on the PokerStars Blog unveiled the signing of Cristiano Ronaldo, then a three-time Ballon d'Or (World Player of the Year) winner (he now has five such titles), took to social media to explain why he signed with the PokerStars team.
"I like playing for winning teams, and PokerStars is the perfect partner for me. As a brand, it is always looking at ways to improve and stay ahead of the curve, and as an athlete, that is something I truly respect."
"I started playing poker a few years ago, and I love the competition, strategy, and fun. I'm looking forward to taking my game to the online and live poker tables and meeting my fans head-to-head. Although football is my world, poker has always been my game. I'm very excited to join the team."
Throwback Thursday: When Soccer Stars Took Over EPT Barcelona
Featuring in the #RaiseIt Campaign
One of Ronaldo's first duties as a member of Team SportStars was to compete against NBA star Dwyane Wade in a series of challenges where they attempted to raise the stakes of everyday tasks.
Wade posted a video of himself waking up with an eye mask on, reaching forward and throwing a small basketball over his head straight into the basket fixed on his wall. Ronaldo responded by waking up to a football flying at him and him performing "keepy-uppies" from a seated position before scoring a goal on his balcony!
Other challenges included Wade making an omelette by launching the eggs into a pan from the three-point mark, which Ronaldo blew out of the park with an incredible trick shot.
Although we never got to see that much of Ronaldo's poker skills in the live poker arena at a European Poker Tour event, he did defeat Breaking Bad star Aaron Paul (Jesse Pinkman) in a £15,000 charity event, raising funds for Save the Children in 2016.
We would not bet against Ronaldo making an appearance at a major poker tournament in the future, even if he is no longer affiliated with PokerStars. Ronaldo strives to become the best at what he does, so the fact he has $0 in live winnings on his Hendon Mob profile and the likes of Neymar Jr ($32,131), "OG" Ronaldo ($45,760), and Gerard Pique ($668,155), have cashed in tournaments, won't sit well with him. However, he has a long way to go before he catches anyone on this list of poker-playing soccer stars. Maybe he could start his poker career at EPT Prague if things don't work out at the World Cup? Cristiano?